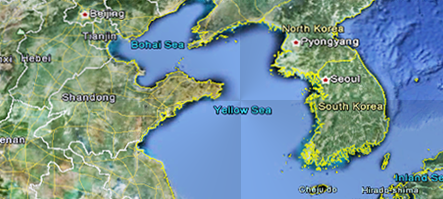 Ecosystem-based, environmentally-sustainable management and use of the YSLME and its watershed by reducing development stress and promoting sustainable exploitation of the ecosystem from a densely populated, heavily urbanized, and industrialized semi-enclosed shelf sea.
The focus of the YSLME project on sustainable fisheries management and reducing stress to the ecosystem provides an opportunity for exploring how this GEF project can further national and regional commitments to certain international conventions and agreements, such as the United Nations Convention on the Law of the Sea (UNCLOS), the FAO Code of Conduct for Responsible Fisheries, and the Global Programme of Action for the Protection of the Marine Environment from Land – based Activities (GPA).
Previous item

YSLME Project is taking off 2nd phase
The 2nd phase of YSLME Project is approved by the GEF Council. Washington DC, USA – The 2nd Phase of YSLME Project has been approved by the recently concluded GEF Council Meeting. The 43rd GEF Council Meeting held during 13-15 November 2012 approved 28 project concepts (PIFs) and one programmatic approach (PFD) of which 2nd Phase of YSLME Project is one of three projects. The Project Framework Document (PFD) submitted by UNDP entitled Reducing Pollution and Rebuilding Degraded Marine Resources in the East Asian Seas through Implementation of Intergovernmental Agreements and Catalyzed Investments will receive a GEF project grant of 20 Million dollars among which YSLME Project will share US$8.2M.

Special Meeting of the PSC 2013
Special Meeting of the Project Steering Committee for the UNDP/GEF Yellow Sea Project will be held in Jeju, Korea, from 8th to 9th May 2013. The objectives of the meetings will be to consider and approve the project document of YSLME 2nd phase including: (i) Considerations of the Project Document; (ii) Other Required Documents; (iii) Agreement in Submitting the Project Document for GEF GEO's Endorsement ; The related documents are ready at the Documents.
Next item